Speed Skaters
Cassie Gerdin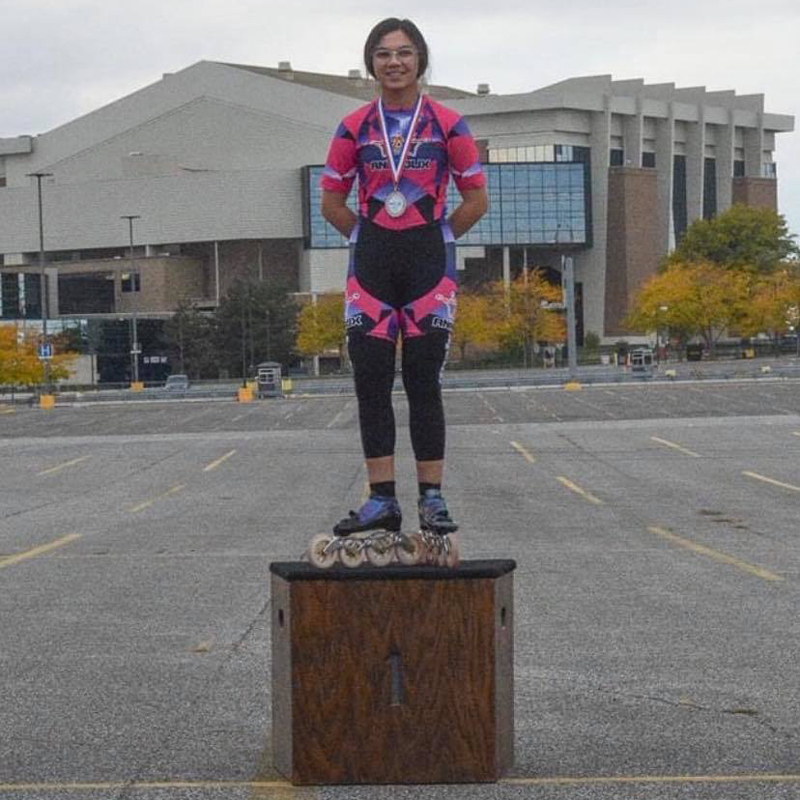 "Hey, I'm Cassie!! I've been skating since I was about 6 and started speed skating when I was around 7 or 8 years old. Now I'm 15, and working on making the junior world team and winning medals at worlds. I look forward to meeting new people so don't be afraid to come up and say hi!" Be sure to check her out!
Elizabeth Martinko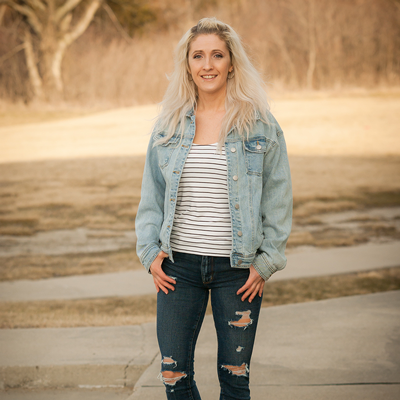 Hi, my name is Liz. I am a coach and skater with Infinity Racing (KC) who has been skating since I was a little girl. My passion has continued into adulthood and I now enjoy the thrill of competition along with the ability to share the sport with new and younger skaters through coaching and mentorship.
Kyle Kolat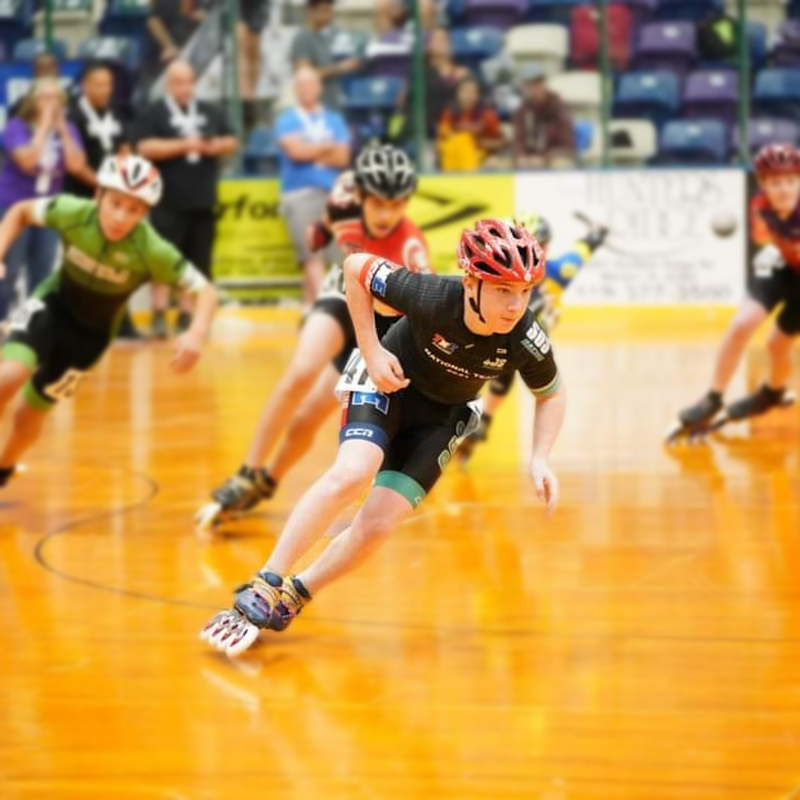 I'm 14 years old, a national champion speed skater that also plays a lot of other sports such as soccer and flag football. I have been competing since 2014. I participate in the local Park and Roll which is a 1/2 marathon that raises money for Alzheimers. Last year I started I fundraiser here in my home town to raise money and awareness for drug and alcohol addiction. I was able to raise 1,000 dollars by skating 18 miles across 3 towns. I have some really big goals that I set for myself I plan on reaching the podium at Nationals and American Championship individually while racing for Fast Forward racing.
Houston Trim III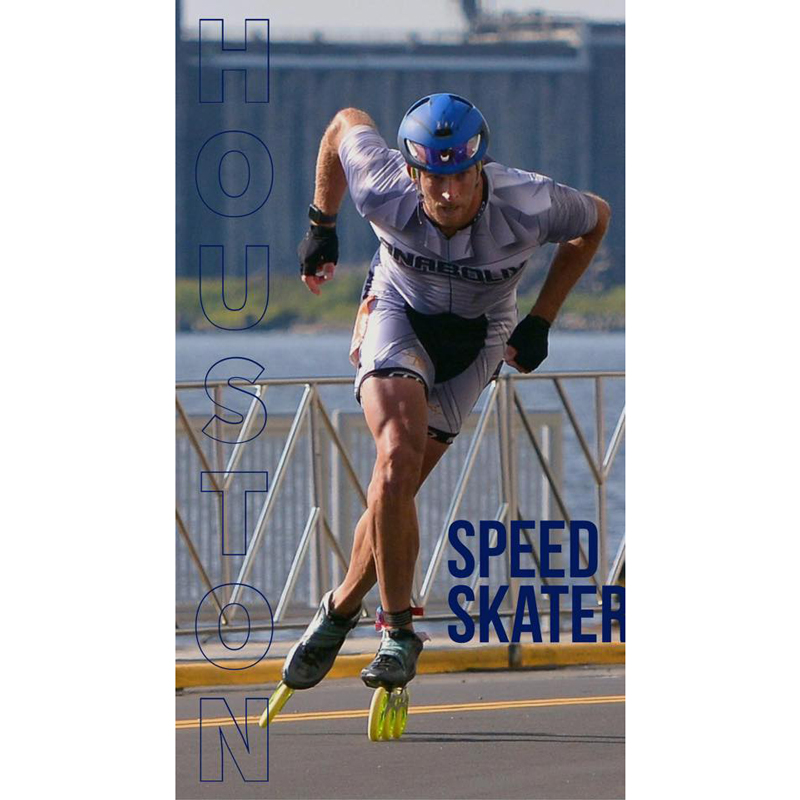 Hi my name is Houston Trim III. I began speed skating at 29 with my kids and it's where I would meet my wife, it was something I always wanted to do as a little kid. It wasn't easy coming into it as an adult by any means but I worked hard and kept my head up to get to where I am today. Through those times I've been able to help encourage and empower skaters across the country. Sharing my passion of skating is such a pleasure.
Marcus Jones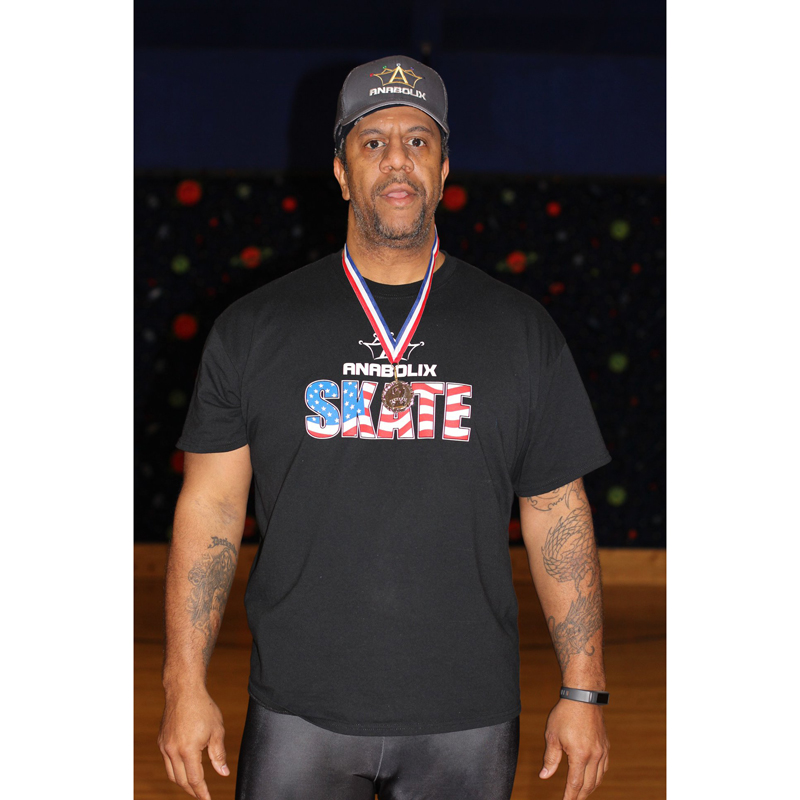 Age 44
Eastlake, Ohio
Coach, Competitor, Mentor
Tuesdays are my favorite days and my favorite pre skate meal are great tacos. lol
I have been around d the sport of skating since I was 9yrs old.
I love not only the speed of the sport but the strategy and growth of its competitors.
I have gained valuable mentors and friends from across the country.
My goal is to make an impact in this sport for as long as I can by helping others become the best versions of themselves. Even if it is just a smile.
I am proud to be a part of the Anabolix family and look for great things to come in the near future.
Paige Patrick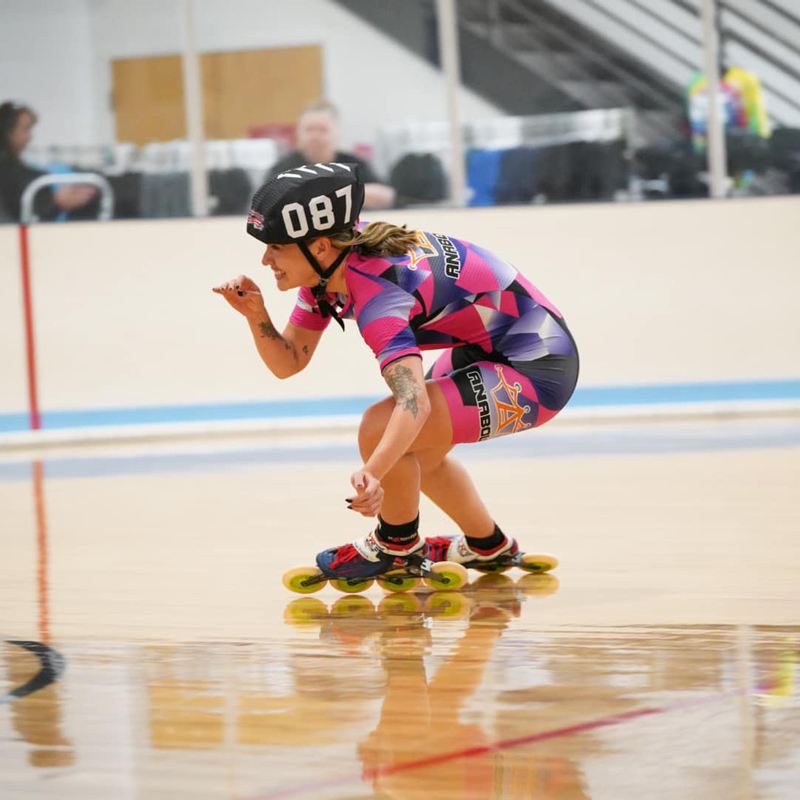 I'm Paige Patrick. I started speed skating at the age of 8 and instantly fell in love with the sport. I competed pretty aggressively from the ages of 8-18 and then had to take a break to start my career. Once covid hit, I really began to take a look at what's important to me, and where I wanted to invest my time. Once my decision was made to fully recommit to it, my passion reignited pretty quickly. I'm overjoyed to be back in this sport, and honored to have picked up a sponsorship with Anabolix. I can't wait to see what the future holds with this amazing company.
Derby Skaters
Casey Lara A.K.A. Lez B Honest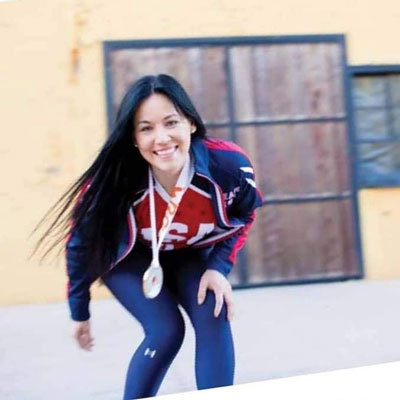 Hey my name is Casey aka Lez B Honest! :) I am a teammate, coach and all around Roller Derby enthusiast. You can find me With Lockeford Liberators and Jr Rascals small town proud. In 2019 I skated with Team USA at World Roller Games and brought home Gold! I feel so much love, adrenaline and passion when I skate and coach. I am always excited about spreading the derby love and showing others the positive impact roller derby has!
Sailor Scary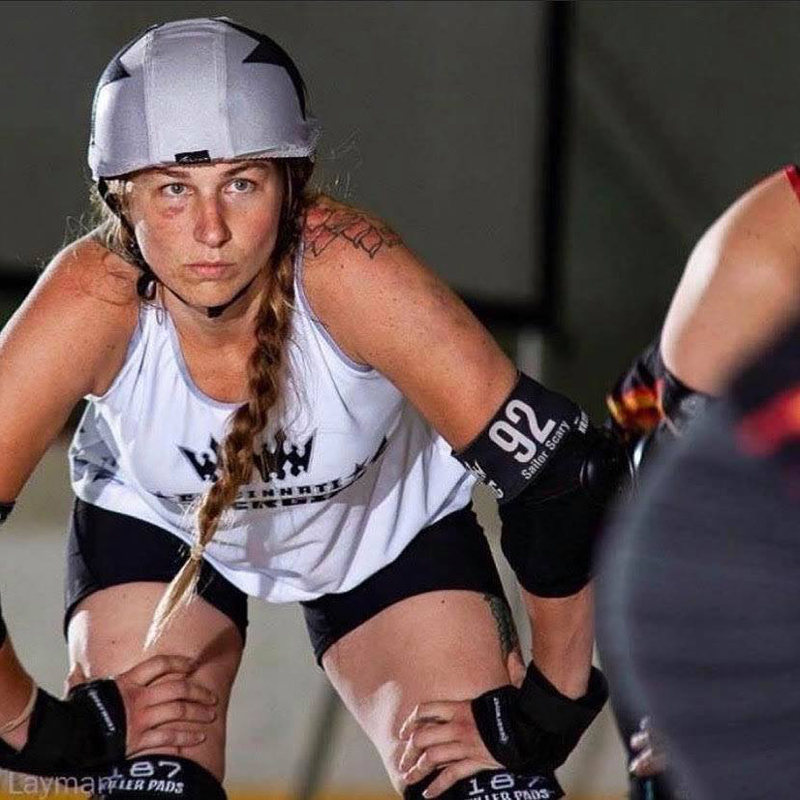 "My name is Sailor Scary (she/her). I've been skating recreationally since I was 6. I started my derby journey in 2008 with Rollergirls of Southern Indiana. I currently play for @cincinnatirollergirls. I've since found passion in distance skating on inlines and park skating on quads. I've been a coach for @cincinnatijuniorrollergirls since 2014 and I love being able to give the gift of skating to whoever asks."
Sara LeMay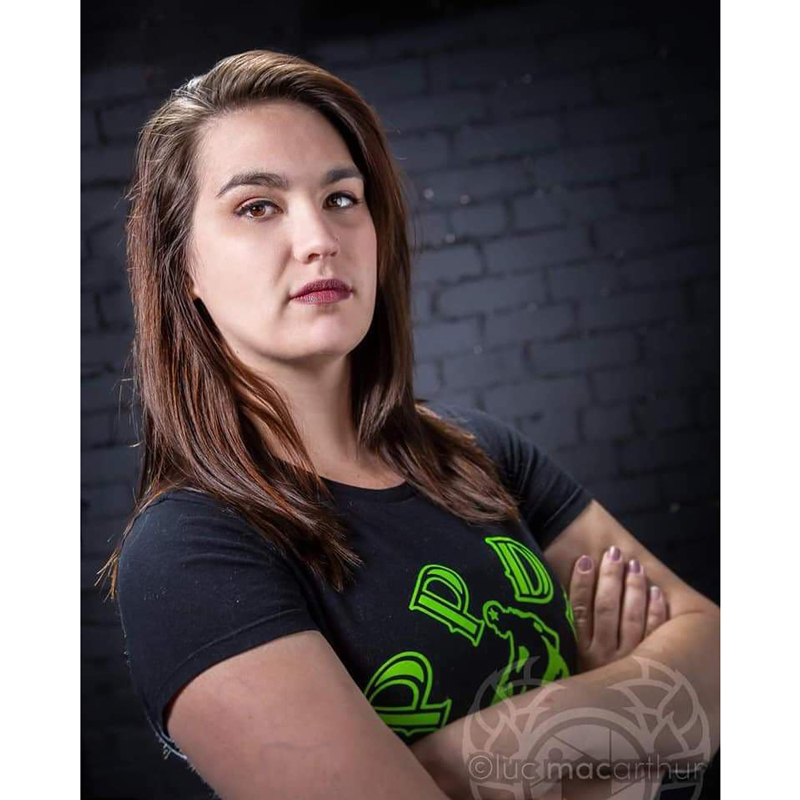 My name is Sara LeMay aka Scara ta Death. I am honored to be sponsored by anabolix for another year! I am currently sponsored as a roller derby skater and am an active member of Pikes Peak Derby Dames. I will be playing with North Central derby for USARS nationals beginning July 9th. I have been an active member of the skating community since I was 5 years old. I started in Speed Skating, then joined Rink Hockey, and finally derby. Throughout the years I always find myself skating, whether I am going back to my speed and hockey roots or traveling around the world for derby. I attended the world roller games in China and Spain. Looking forward to the next one!
Terry Wishard - "Stretch Harmstrong"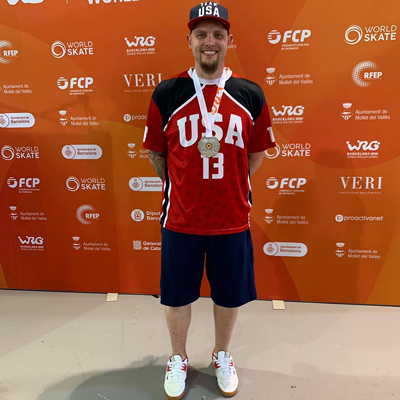 Terry is a multidisciplinary, lifelong skater competing in inline speed and quad speed and derby. Currently, he's a assistant coach and member of Fast Forward Racing, assistant coach at Mason Dixon Roller Vixens Roller Derby and a jammer/pivot for the Penn Jersey Hooligans.

In July of 2019 Terry participated as a jammer and blocker for USARS Team USA Roller Derby. The team went on to play in the World Roller Games in Barcelona Spain in the summer of 2019. Team USA went undefeated to win the gold medal and became the first ever World Skate men's roller derby World Champions.
Jam Skaters
Joshua Love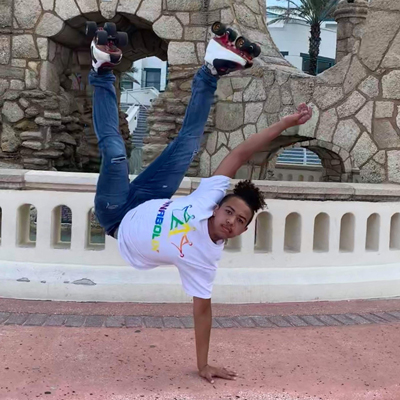 Hello Everyone!! My name is Joshua Love. I live in Riverview Florida. I started actually Jamskating about 4 years ago. I love to skate and express myself through it. I love teaching the kids so they can keep the sport alive. I'm so excited to be sponsored through anabolix skate company. The company has made my outlook on skating expand into things I never thought that I would experience. Thank you for letting me be part of your family.
Kardale Holland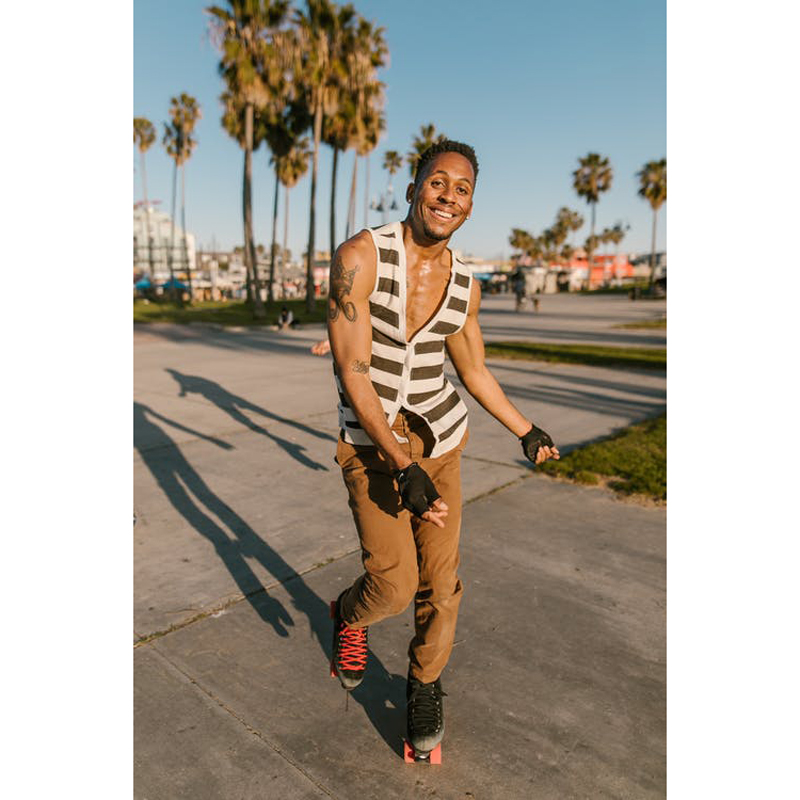 My full name is Kardale Holland and I started out as a dancer first before I started really getting into skating. When I was in a all boys home , we would go to Skate Depot sometimes on the weekend and I would see all these amazing skaters, and I wanted to be that good. Years later after I got my degree in dance, I started back skating again and really enjoyed it. When Covid-19 happen last year, I started to skate outside almost everyday and that's when I really started to become better and fall in love with skating. Since then, I have made new friends and felt peace whenever I skate. My favorite part of skating is jam skating in the middle where ever I go. I always love to do spins and ground work. In my spare time when I'm not skating, I love going to the movies, eating pizza with ranch, and watching anime.
Lex 'Rollex' Milczarek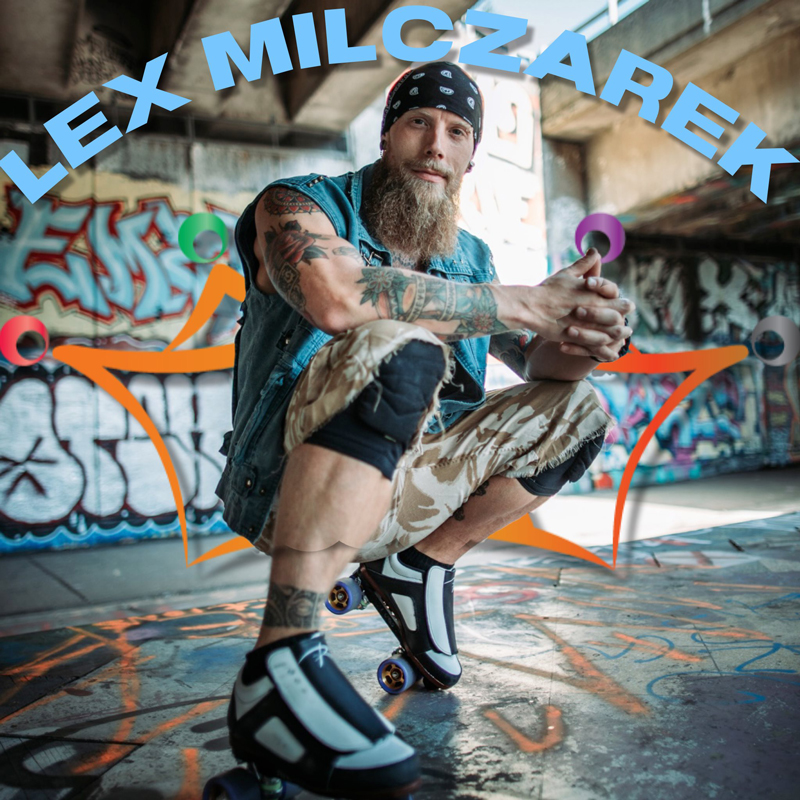 Lex is a Professional Dancer & Jam Skater sponsored by Anabolix Skate Company of USA.

His diverse career has taken him all over the world Skating, performing for such names as Shy FX & Ms Dynamite, The Saturday's & Porsche Cars. He toured the U.K. in the Westend Musical Production 'Starlight Express' showcasing his Hiphop skate style & singing too.

Lex also played the main Character of 'BOOGIE' in the U.K. number 1 hit film StreetDance3D The Movie back in 2010 earning himself a place on IMDB & a world tour for its release.
Odu and Oodua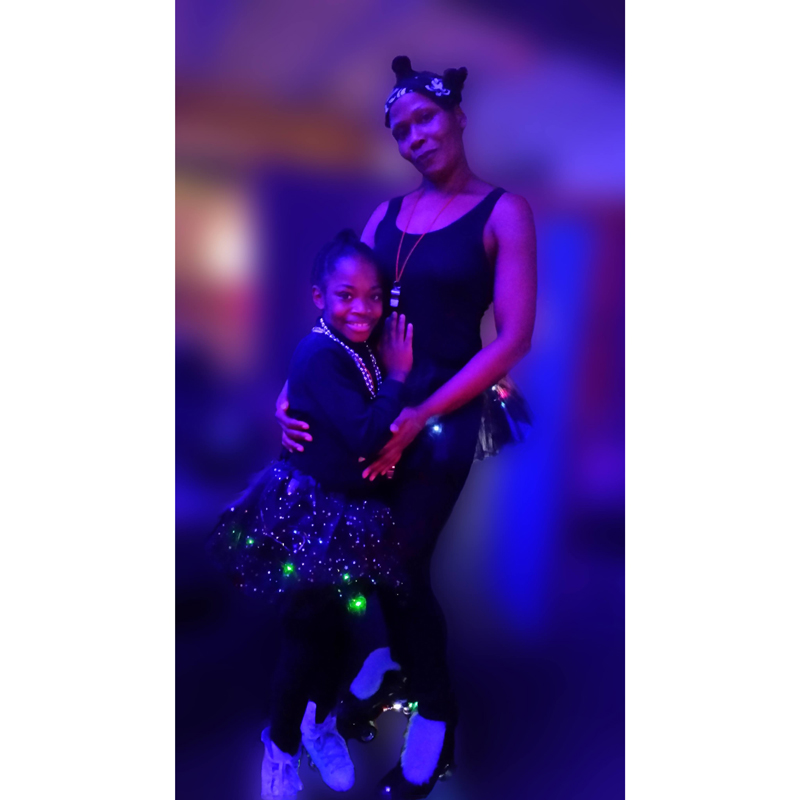 We are Odu and Oodua: a mother-daughter skating duo! We describe our style of skating as "gumbo" because we incorporate jam, rhythm, JB, and ATL (Atlanta) styles. We also love learning and performing tricks and stunts! Our lives are rooted in education and elevation, and skating is a great way to apply principles of physics, algebra, biology, and mathematics to daily life while exploring social studies, community relations, and individual creativity. We are absolutely thrilled and humbled to be sponsored by Anabolix! We look forward to spreading the joys of skating while teaching and learning everything we can everywhere we skate.
Push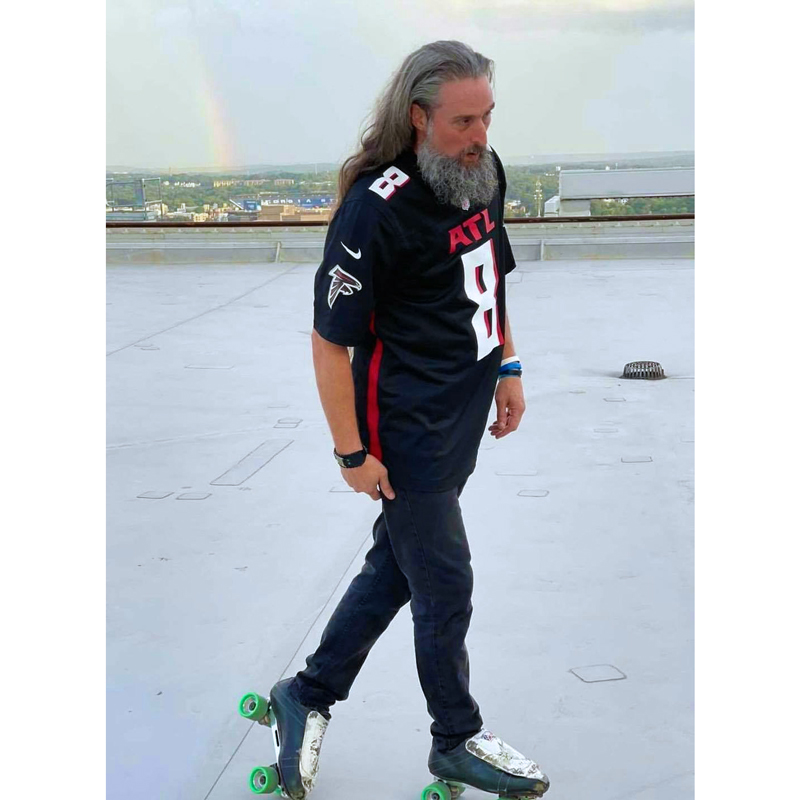 Kyle Dutcher (better known as Push) began his journey in the mid 2000s making a name for himself in the heart of the Atlanta skate community. After observing a group of teenagers performing dance moves on roller skates, at 26 years old, Push decided to try roller skating for himself. A self-proclaimed perfectionist, Push was determined to hone his craft with precision. Influenced by the JB style of the mid-west, Push blends rhythmic dance routines in a hypnotically smooth glide that is true poetry in motion (JB skating originated in Chicago as skaters grooved to the soulful sounds of the "Godfather of Soul," James Brown). After learning that the ladies at his local rink were drawn to guys with slower, rhythmic type of skating Push set out to create a unique style of his own.

Visit pushglide.com
Quinn Murphy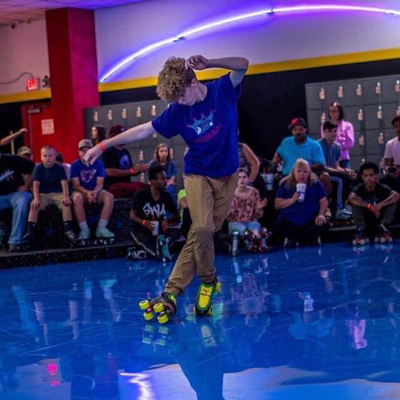 Quinn is 15 years old and began jamskating at the early age of 6 and in 2016 at age 10 became a sponsored skater for Anabolix. He loves to skate and enjoys teaching and sharing the sport with others. In addition to Jamskating he also enjoys aggressive skating in ramps and bowls.
Solomon Snowden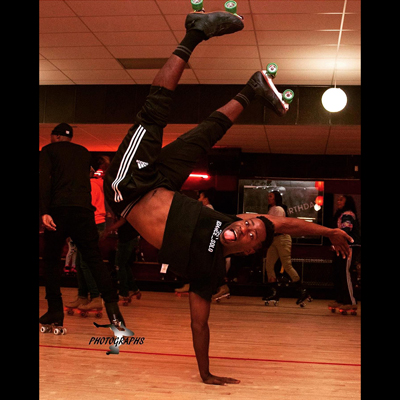 Idance_solo is a very energetic skater who has done projects with Nike, Footlocker, Netflix, Starz, Dubsmash, Hbo and more. He was born and raised in Albany, Ga and is always giving back by doing lots of community service. He always hypes people, motivating them to reach their highest potential and inspires people by showing them you can be serious and have fun at the same time. His creativity is amazing!
Park / Aggressive Skaters
Angel Lopez (KidQuad)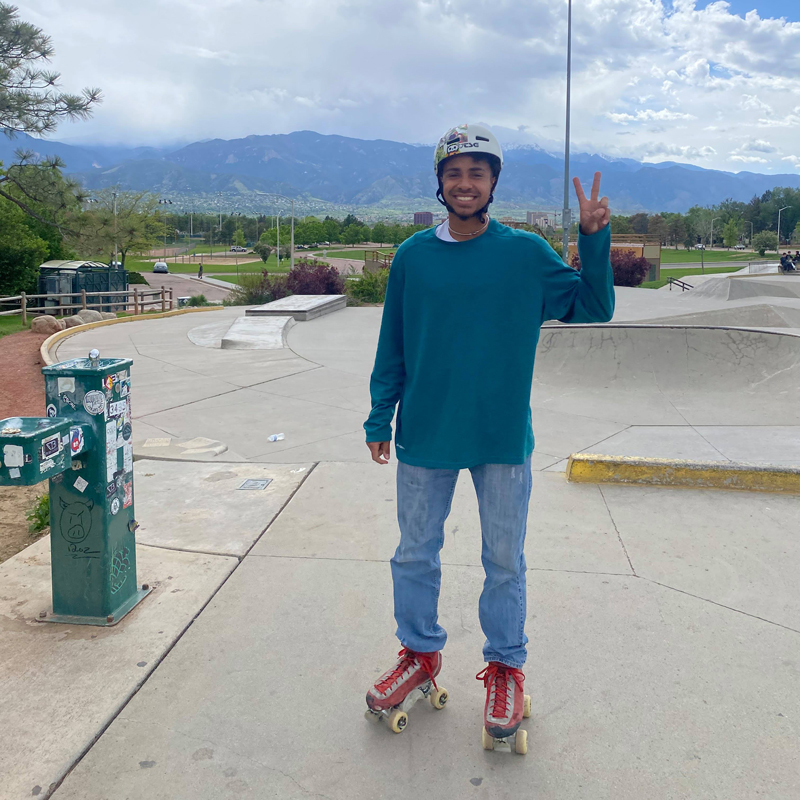 My name is Angel Lopez (he/him) I'm originally from Texas but, I currently stay in Denver, CO. I've been skating a little over three years. When I'm not skating I love meeting new people, seeing cool places & barbecuing with ma friends.
Ava Verhoff
My name is Ava Verhoff and my roller derby name is Pushy longstocking! Im 13 years old and I live in st.louis mo. I mostly park skate but also love to play derby with stl jr. roller derby. Roller skating for me is a away to expresss myself, be creative, push my limits and face my fears. I have made alot of friends and hope to make many more. I want to continue to push myself skating and motivate people to try roller skating and maybe they will love it as much as I do!!
Brandon Powell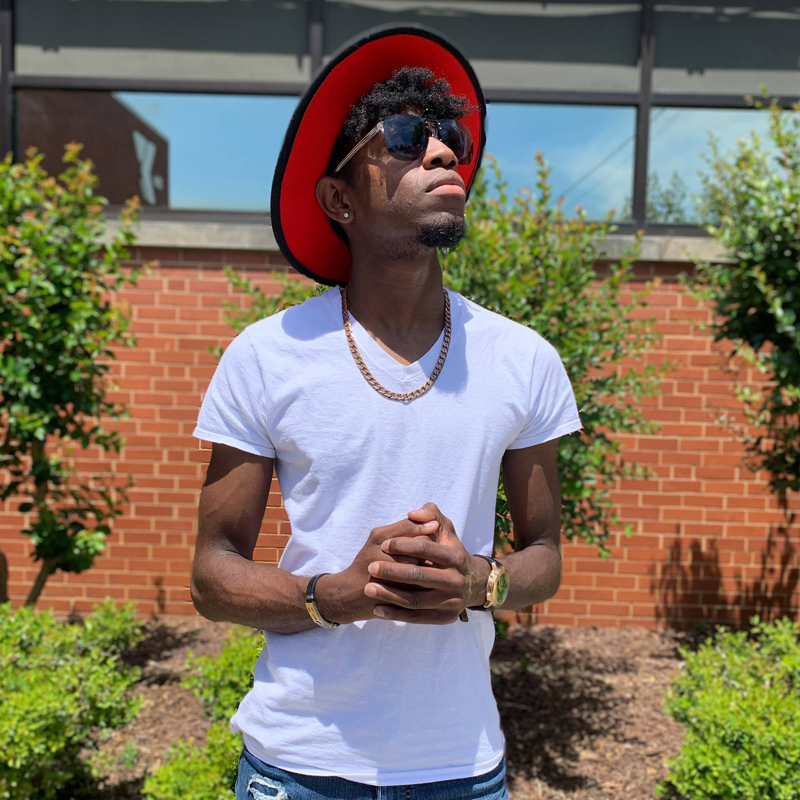 Well what can I say? I've fallen in love with skating and it will never get old! I'm Brandon Powell, but some people call me "Bp"! Anywhere that I could physically skate at, you'll see me there! The mall, the beach, even on college campuses! Long story short, skating is essential and I can't live without it!
Charlie Wright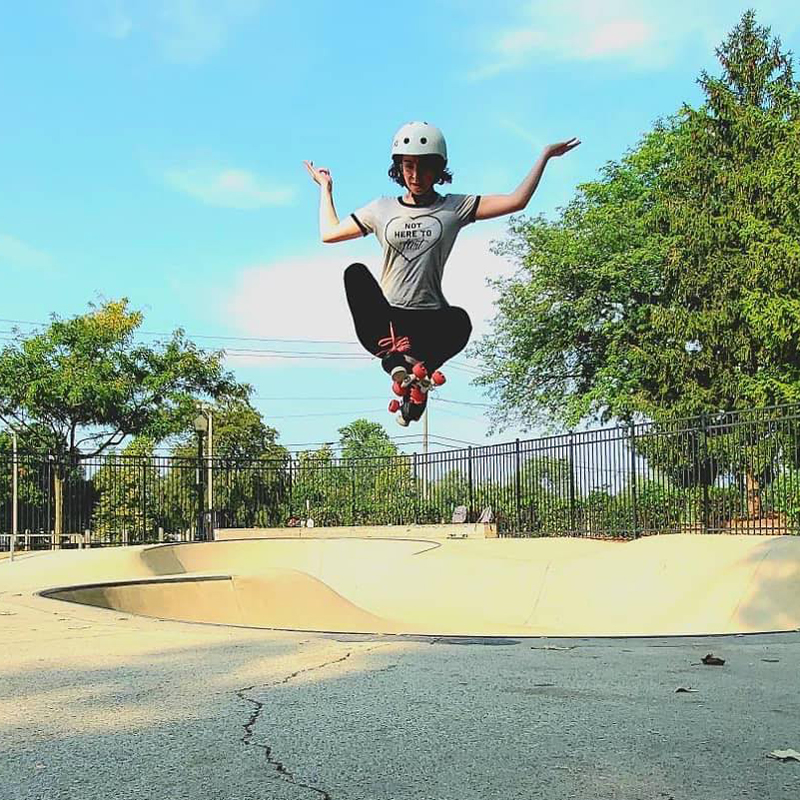 My name is Charlie, and I use they/them pronouns. I've been park skating for about 5 years. Aggressive skating has given me the strength and space to loudly exist as a deaf, queer non-binary, autistic athlete and to share that perspective with the community. Skating pushes me to achieve things I never thought possible. The park always has new creative lines, new tricks, and new ways to spread the stoke waiting for me.
Lauren Strecker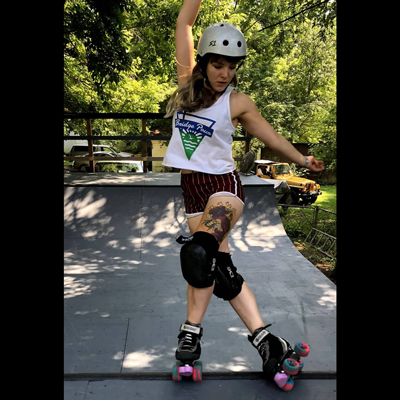 I'm a former Cincinnati Rollergirl that began park skating about four years ago after I retired from derby. Ever since I have been working to not only improve my skating in the park, but spread the love of skating to others.
Punky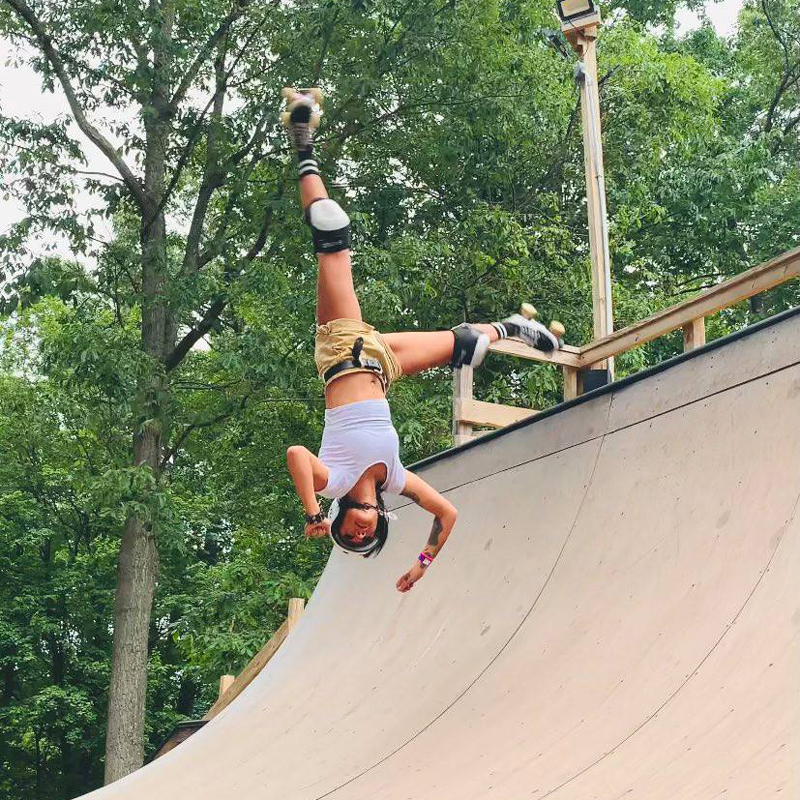 "Hi I'm Punky☺️ This will be my 4th year skating for Anabolix!! Ive played 10 years of competitive roller derby. I started with co-ed junior derby & played for Team USA at the first Junior Roller Derby World Cup. At 18 I went on to captain & coach for the Race City Rebels Mens Roller Derby, & play in 3 MRDA playoffs. Roller derby made me feel strong, helped me find my voice, & come out of my shell. After Covid hit & the sport went into a hiatus, I fell absolutely in love with park skating. I love conquering my fears & at the park, & that it's just me vs myself. I can learn & set goals at my own pace, for fun! My rollerskates have become apart of who I am & have saved my life. ♥" - @punky.247